We here at RepairLabs spend a lot of time fixing water damaged devices. Now, most of the time, these devices require our specially-designed RepairLabs' Cleaning Process to get back into working order, still we decided it was time to answer the question we get asked all the time: "I got my phone wet, what can I do to fix it?"
To do this test properly, we had to document each step of the process so that you guys can see exactly why one option is better than another. The most common thing people do when they get their device wet, is stick it in rice… That's the worst thing you can do. Yes, rice will eventually absorb the water, what it will also do is cause massive corrosion build-up inside your device, which is the reason it isn't working in the first place.
Rice has always been considered by many to be the top option for drying out a water damaged device, but the truth is that rice doesn't absorb liquid out of your device very well, increasing the risk of a part shorting out inside the phone due to water, and an increased build-up of corrosion from the chlorine in the water.
What's Up With Corrosion?
Though the general idea behind corrosion is that it makes your phone go from working to not working, which is true, but there is more to it than that. It's time for a RepairLabs' Super Awesome Scientific Moment!!
Corrosion is the result of an undisturbed chlorinated-liquid sitting inside your device for an extended period of time. What this chlorine does is cause corrosion, which eats away lead-free solder, causing your device to have cold joints which is a bad connection between two connectors where the solder use to be. Another issue with corrosion is that it's conductive, which can cause parts inside your device to short out, such as the battery and LCD, etc…
Any website or person that has told you to stick your phone in rice after suffering water damage is setting you up for failure. Luckily your friends at RepairLabs are here to help you get things back in working order.
Getting Our Hands Wet With Water Damage
We used the five most common drying methods, which are; rice, an alcohol bath, desiccant crystals, a blow dryer, and running a device through RepairLabs' own Cleaning Process. For the sake of consistency, we used five iPhones that have been submerged in a bucket full of pool water, which consists of water and chlorine, since the water will be more corrosive than tap water, but not quite as bad as salt water.
Each device was submerged for five minutes, removed from the water and shaken out, then put into whatever water drying method it was selected for. After their allotted time, they were all removed and disassembled to get pictures of the rust accumulation inside and the corrosion build up on the LCD connection.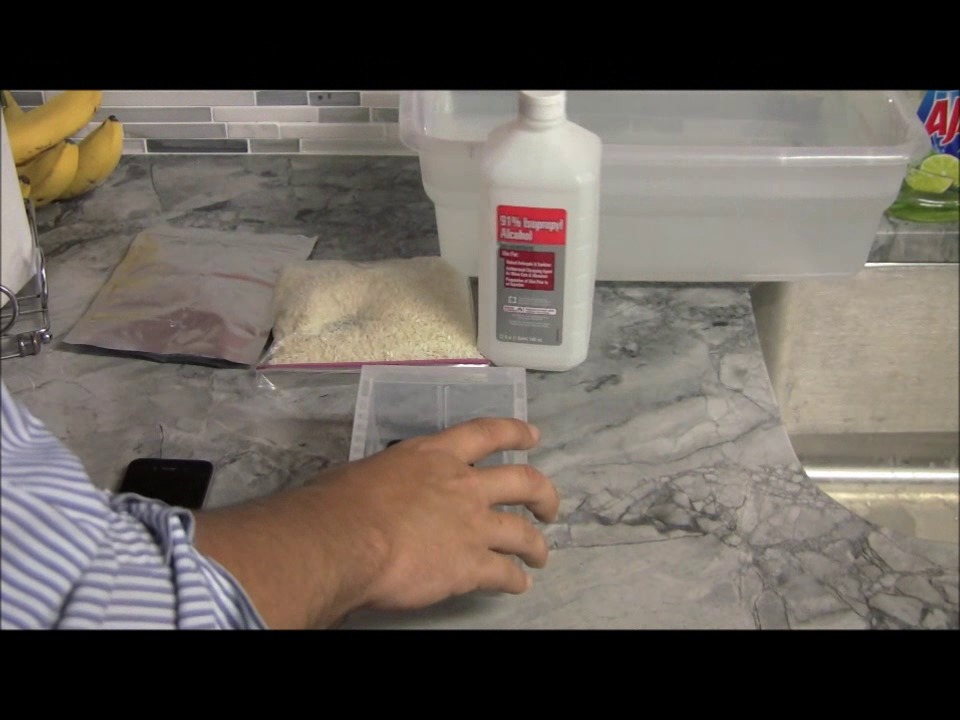 Desiccant Crystals (48hrs) – The trusty 48 hour emergency water kit. All these are is a little bag full of desiccant crystals, which are used to absorb moisture. We followed the directions on the packaging to the letter, getting the phone into the bag as quickly as possible and then sealing it for 48 hours before re-opening it.
Results – The rust build-up was pretty severe on the screws inside the phone, along with most of the back housing and metal internal components. There was also a bit of moisture still on the battery, leaving it moist in areas.
The LCD connection was surprisingly relatively clean of any corrosion, raising the chances that we would be able to fix this particular phone.
Alcohol (24hrs) – Considered by some our Certified Technicians to be the best way to save your phone after a dip in some liquid. The alcohol will help break down the water while working as a non-conductive liquid to keep your device from shorting out. Note that five to ten minutes is all that is needed in the alcohol. We let it sit in the alcohol for five minutes before removing the phone and letting it air dry for another 24 hours.
Interesting to see that the phone worked the moment we put it in the alcohol, even after sitting in the pool water for five whole minutes.
Results – Not nearly as much rust inside the phone as the crystal phone. The screws are rusted and of course the water sensor has been tripped on the phone, which is a given. There is no standing water on the battery or within the device itself, being completely dry, but you can clearly see the water damage to the battery.
Underneath the cables is the LCD connection, which is almost spotless except for the bit of corrosion on the connector itself, you can tell the corrosion by its teal color.
Blow Dryer (48hrs) – This is probably your second best bet when it comes to getting your phone working again after dropping it in water. Using a blow dryer on low heat and low speed will gently push the water molecules out of the phone from the open areas. Do this for roughly five minutes, and you've raised the chances of getting your phone back in working condition exponentially. After blow drying it, we let it sit for an additional 48 hours to let it completely dry out.
We used the blow dryer for five minutes on the phone, constantly turning and flipping the phone to help evaporate as much water as we could.
Results – Similar results to that of the alcohol bath phone. There is minor rust damage inside the phone besides the screws. Again the battery is pretty thrashed, which is why we call it water damage.
Not surprising, since the rest of the internals look similar, the LCD connection is roughly the same as well (in comparison to the alcohol phone), with there only being minor corrosion damage on the connector cable itself.
RepairLabs' Cleaning Process (24hrs) – The idea here is to let the phone sit powered down for 24 hours, the average amount of time a water damaged phone sits before it is normally taken/shipped to a repair center for water damage repairs. After 24 hours, we ran the phone through our RepairLabs' Cleaning Process to break away the corrosion.
Results – After getting the 24 hour treatment, this phone was torn apart and cleaned of all corrosion, and the results are pretty amazing, with the phone showing next to no signs of water damage after having been submerged in pool water for five minutes.
The LCD connection is spotless, with not an ounce of corrosion to be found.
Rice (72hrs) – The most misleading myth when it comes to phone repair probably ever. Putting your phone in rice is a terrible idea. The moisture absorbed is minimal at best compared to the amount of corrosion you will build in return. We let the iPhone sit inside a full bag of rice for 72 hours before opening it to check for corrosion.
Results – Wow… There really is not a better word to explain the phone after sitting in the rice for three whole days. The rust build-up is intense and there is still water on the battery itself, leading me to conclusion that the rice did an absolutely porous job of absorbing the water. In the battle between rice and water damage, water damage won hands down!
Gross, that corrosion means this phone is basically shot. Yes, it could be put through our water damage cleaning process, but there is no guarantee this phone could be saved with this much damage to the internals.
For reference, this is what an iPhone looks like after getting wet in pool water and sitting for eight whole days. The corrosion inside is so bad that this phone has probably seen its last days. Though we clean all phones that come through, not every phone can be saved.
Conclusion
The results speak for themselves. If there is no way for you to get your phone to us right away, either put your phone in a quick alcohol bath or run a blow dryer over it on low for a bit. The 48 hour emergency kits aren't a bad idea if you're out and about when this happens, but the two previously stated methods are cheaper and you normally have both in-house.
Putting your phone in rice doesn't help, so don't bother. The standing water on the battery and corrosion build-up makes it pretty clear that you're much better off doing something else with your phone if you get it wet.
We personally recommend the blow dryer or alcohol, whichever is more convenient for you, but the reality of the situation is that choosing a repair center to handle repairing your water damaged device is your absolute best option!